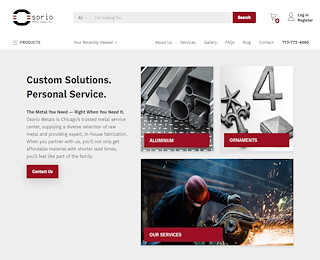 Today, metal is a standard building material for commercial and residential properties. Welding companies are essential for people who want to use different kinds of metals in construction, without working on each particular piece by themselves or with individual welding professionals. There is also no need to buy a pre-made gate or another metal structure when you can work with a welding company for custom fabrication in just a couple of days or weeks for more significant projects.
We handle our welding projects to produce the structural powerhouse of any building construction. The series of tasks allows us to perform the job well and produce the best results to accomplish a perfect sheet metal fabrication in Chicago.
FAQ about our Chicago welding services
Are we qualified as professional welders?
The first consideration of welding is whether the company can handle your order details with ease. You need to make sure the welding company has certifications from notable organizations because they understand a range of problems and can offer you quick and efficient results. We have all the licenses and permits allowing us to operate on a local and national level; hence we are comfortable managing a range of welding projects from small to large commercial orders.
What kind of tools do we have?
Different companies have different sets of tools for all kinds of orders. You want one with essential tools and structures that are state-of-the-art and can get the job done fast. It is better to trust us with your welding projects because you need too many tools and safety measures to perform the job well. The professional welder at Osorio Metals Supply knows how to combine different tools and processes and can offer a series of services to complete several steps of your welding project.
How affordable are your rates?
How much do welders charge to weld? You do not want a welding company with the best services but unimaginably high rates away from your profits. We offer a significant advantage to your business by keeping the financial factors in check and open communications to adjust your suits your budget.
What are the proper safety measures?
Professional welders offer the best products but maintain the safest production systems. We follow proper protocols and safety measures to prevent damage to our staff, maintain excellent production standards, and avoid unprecedented accidents like electrocution, among many more.
Are we insured?
It is best to hire a professional with comprehensive insurance and bonding because they understand different compliance regulations and state rules. We make sure to meet the aspects of all insurance details to perform the job well and have enough to cover calamities and damages.
Our company invests in proper Welding and assembly services and tools to make sure you have excellent results. The vast experience and variety of materials and techniques have allowed us to work on many different welding projects o produce custom structural components. Did you find this information helpful regarding our welding in Chicago? Contact us to learn more or to discuss your particular project's details.