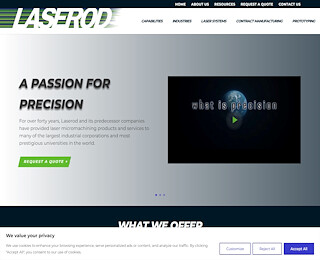 Laserod Technologies is a proven leader in the precision laser machining field.  With a combined experience pool of several decades, we combine our knowledge with front line equipment to bring laser cutting and machining to the next level.  From one piece prototypes up to large production runs, give us a call and see how we can help. Our solid state lasers have a cutting width ranging from 10 to 50 microns, enabling us to perform the following tasks:
Micro Milling
Advanced beam, focusing techniques and proprietary software allow us to machine micro sized features used in fluidics, cutting tools and stamps.   Laser milling also eliminates thermal distortion, which is especially important when cutting thinner materials. Even when cutting relatively large, flat surfaces, precision laser machining has advantages over photo-chemical etching as it produces much cleaner edging, with finer geometries obtainable at greater speeds. 
Hole Drilling
Using lasers to drill holes is accomplished in two different ways:  percussion and trepanning.  In percussion, or single shot drilling, the laser is pulsed while being held stationary, creating a hole size particular to the laser and its focusing.  Trepanning a hole, on the other hand, is when the laser is moved in a spiral pattern, increasing its diameter until the desired hole size is obtained.  This process can of course be used to make holes of any shape needed as the laser follows its programmed path.    Blind (non-through) hole drilling is also accomplished with specific pulse times coupled with the correct optics.
Laser Marking
Small or critical components can be laser marked without affecting the integrity of the product.  Typical applications include barcodes, data matrix codes, serial numbers, logos or other images on items ranging from medical implants, wires, precious stones and pharmaceutical tablets.  In the same way, any type of pattern can be marked for texturing or esthetic purposes. Also, in microcircuitry, electrical pathways can be marked efficiently and accurately.  
Cutting or Slicing
Cutting thin sections of silicon with lasers for the semi conductor and solar cell industries has several advantages over mechanical means such as diamond wire and saw blades.  Kerfs are kept much smaller, resulting in less loss of material.  Burrs and rough edges that can accompany small features are also virtually eliminated, and consumables, in this case the diamond wire or blades, are also done away with. 
Dicing
Dicing refers to:
partial cutting of a surface in a repetitive pattern, enabling It to be reliably cleaved or cut at a later time into the pre-cut pattern.
Full thru cutting of a larger item into several smaller ones. The dicing laser can be used to cut straight lines or curved profiles. 
Materials
Precision Laser Machining, drilling, marking and cutting is available for most materials, including:
Ferrous and non-ferrous metals
Glass
Ceramics
Polymers
Semiconductors
Precious stones
For all your precision laser machining services give us a call at Laserod Technologies.  From dicing, slicing, micromachining or marking we can make your ideas happen.  Our experienced staff and top tier equipment are at your call.