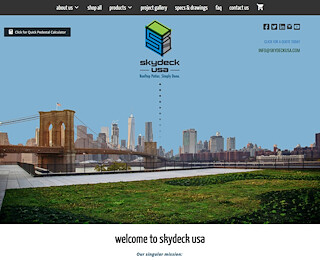 Rooftop patios are a coveted feature in modern residential and commercial properties, providing an exceptional space for relaxation, entertainment, and admiring panoramic views. At Skydeck USA, we specialize in designing and constructing rooftop patios that seamlessly blend functionality and visual appeal. One of the cutting-edge solutions we employ in our projects is the pedestal paver system, which offers a versatile and robust foundation for an array of patio surfaces.
Understanding the Pedestal Paver System for Rooftop Patios
Efficient Drainage and Ventilation
The pedestal paver system creates an elevated surface that allows for efficient drainage and ventilation for your rooftop patio. This prevents water accumulation and promotes air circulation, protecting your patio surface and the underlying roofing materials from potential damage and extending their lifespan.
Adaptable Installation and Maintenance
The flexibility of the pedestal paver system simplifies both installation and maintenance. The pedestals can be quickly adjusted to the desired height and slope, ensuring a level patio surface even on uneven rooftops. Furthermore, they provide easy access to the underlying roof for maintenance, inspection, and repair work without the need to dismantle the entire patio surface.
Load-Bearing Strength
Pedestal paver systems are designed to support substantial weight loads, making them an appropriate foundation for various patio surface materials, including concrete pavers, wood decking, and porcelain tiles. This ensures a stable and safe rooftop patio capable of withstanding heavy foot traffic and outdoor furnishings.
Design Versatility
Using a pedestal paver system in your rooftop patio construction allows for a wide range of design possibilities. They can accommodate different surface materials, colors, and patterns, enabling you to create a truly unique and personalized outdoor space that complements your property's aesthetic.
Environmentally Conscious Solution
Pedestal paver systems are an eco-friendly choice for rooftop patio construction. They are often made from recycled materials, and because they elevate the patio surface, they promote efficient drainage and minimize stormwater runoff.
Creating Your Perfect Rooftop Patio with Skydeck USA and Pedestal Paver Systems
In-Depth Consultation and Custom Design
Our process at Skydeck USA begins with an extensive consultation to understand your vision, requirements, and budget for your rooftop patio. We then develop a custom design plan that incorporates the pedestal paver system and your choice of patio surface materials, ensuring a cohesive and visually appealing result.
Expert Installation for Lasting Quality
Our team of skilled professionals has vast experience installing rooftop patios using pedestal paver systems. We handle every aspect of the installation, from surface preparation to the precise placement of the pedestals and patio materials, ensuring a high-quality and efficient construction process.
Prioritizing Safety and Building Code Compliance
At Skydeck USA, we prioritize safety and adhere to all relevant building codes and regulations when constructing your rooftop patio. We work with you to navigate any permitting processes and ensure that your rooftop patio is safe, secure, and compliant with local requirements.
Post-Installation Support and Care
After your rooftop patio is complete, our commitment to your satisfaction continues. We provide post-installation support to address any questions or concerns you may have and offer maintenance services and recommendations to help you keep your rooftop patio in excellent condition.
Enhancing Your Rooftop Patio Experience with Additional Features
To further elevate your rooftop patio experience, Skydeck USA can incorporate a variety of additional features and amenities into your design. These may include:
Outdoor Lighting Solutions: Create a warm and welcoming atmosphere with energy-efficient lighting options, allowing you to enjoy your rooftop patio well into the evening.
Custom Seating and Dining Spaces: Design comfortable and inviting seating and dining areas that suit your entertaining needs and style preferences.
Green Spaces and Planters: Incorporate greenery and planters into your rooftop patio design to create a lush and calming oasis amidst the urban landscape.
Integrated Sound Systems: Enhance the ambiance of your rooftop patio by installing an integrated sound system that allows you to play your favorite music or audio content while you entertain guests or unwind after a long day.
Water Features and Fire Pits: Introduce elements of tranquility and warmth to your rooftop patio by adding water features or a fire pit, creating a captivating focal point and providing a cozy gathering space for friends and family.
Outdoor Kitchen and Bar: Elevate your outdoor entertaining experience by incorporating a fully-equipped outdoor kitchen and bar, making it easy to prepare and serve delicious meals and refreshments right on your rooftop patio.
Custom Shade Solutions: Protect yourself and your guests from the sun's harsh rays with custom shade solutions, such as retractable awnings, pergolas, or umbrellas, ensuring maximum comfort on hot summer days.
Privacy Screens and Fencing: Create a sense of privacy and seclusion on your rooftop patio by incorporating attractive privacy screens or fencing, allowing you to enjoy your outdoor space without compromising your privacy.
At Skydeck USA, our goal is to create a rooftop patio that not only meets but exceeds your expectations. By combining the innovative pedestal paver system with our design expertise and a variety of additional features, we can help you transform your rooftop into a luxurious and inviting outdoor living space that reflects your unique style and preferences. Contact us today to start planning your dream rooftop patio.
SkyDeck USA
(616) 308-6309
2966 Wilson Dr NW
Walker MI 49534 US